How to Apply - Online Degree Completion
---
We Are Glad You Have Decided to Apply to ECU.
We offer online degree completion bachelor's programs to eligible transfer students.*
Have questions? Visit the DE 101 page or  Contact us.
We recommend that you:
Start early
Be aware of deadlines
Online/distance education students* apply through the regular Undergraduate Admissions website.
The Undergraduate Admissions transfer page includes details on
Transfer requirements
Course equivalency (under transfer resources)
NC Community College degree plans (under transfer resources)
As well as a link to create an admissions portal – "How to apply".
Be sure to scroll down the admissions page to view links and details.
*High school students should adhere to freshman application requirements. Freshman/early college students will be bound by the freshman residency requirements as well as be required to attend all freshman orientation activities.
---
Before you Apply
Please note that admission to the university does not guarantee admission to all degree programs, many of which have additional application procedures and requirements.
Contact us if you have questions regarding eligibility requirements for your program of interest.
Students who have completed service schools while on active duty with the military may request an evaluation prior to admission through the Veterans Affairs Office.
---
Verify your residency (NC residents only)
If you wish to claim in-state residency for tuition purposes, please make sure to complete the Residency Determination Service (RDS) process at NCresidency.org. You will need to provide us with your Residency Certification Number (RCN) either on the application as you are applying, or later by sending the number to Undergraduate Admissions, ugresidency@ecu.edu.
---
On the Application
When completing your application be sure to mark "YES" in the field regarding "Online degree only". This assists us in making sure that you will receive all the information you need, as one of over 6,000 ECU students who pursue their degrees at a distance.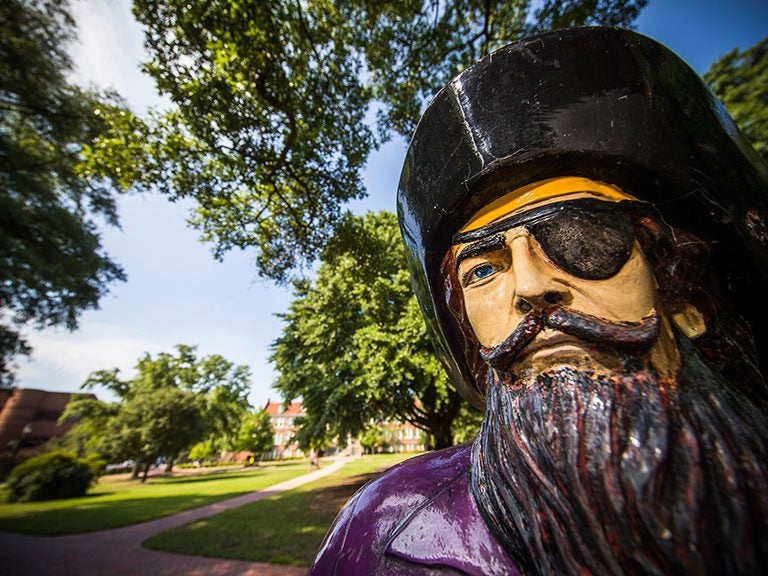 A Completed Application for Transfer Admissions Includes:
An online application
The non-refundable application fee
Submission of ALL official transcripts from each college, technical institute, or university attended
Undergraduate Admissions Website
How to request transcripts
Contact the Registrar's Office of each school you attended. There is typically a link on the Registrar's page to request official transcripts electronically.
Official transcripts and questions regarding admission should be directed to:
Office of Undergraduate Admissions
Mail Stop 517
106 Whichard Building
East Carolina University
Greenville, NC 27858-4353
transfer@ecu.edu
Visit the Undergraduate Admissions transfer page. Also see the transfer FAQ page.
Are you a newly accepted student? See our new and current student page here.
---
Institutional and Professional Licensure Disclosures for Enrolled and Prospective Students
Important Note to Residents Outside North Carolina
---